ユーリのメモリーforヴォルフラム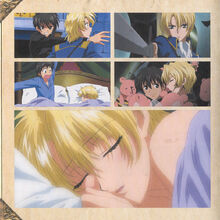 へなちょこ言うな~!
け、け、け、結婚、男と男が?!
しかも俺から求婚して?いったいいつ…?
な、なんでだ?
なんであいつが俺のベッドいるんだ?
どどど、どう言うことだ?
あぁ、いかん、落ち着け~。
そ、そうだお風呂だ!お風呂に入って…
だから、船のたびにまで付いてくるから…
なんで又俺のベッドにいるんだ?ヴォルフラム!
いい!一人で眠れるから
だから、着々と既成事実を作ろうとするなあっ
だ か ら、へなちょこ言うな~!
くぅ~っ… いつの時代も、わがままプー!
ねえヴォルフラム、愛だっていんならきくけど、
その愛のために何かを殺すっていうのはヘンじゃねーか?
愛っていうのは、かわいがったり、やさしくしたり、
…なんてゆーか、相手を生かそうとするもんだろ?
だぁかぁらっ、愛ってゆーのはっ、
誰か一人とか、どっしかー方とかに与えるもんじゃなくって、
すべてのものに平等に与えるもんじゃねえの!
愛は与えただけ自分にもかえってくるんだ!
愛を与えれば人間たちだってちゃんと返してくる。
…こいつらだって、きっと…!
いったろ、愛は与えたぶんだけもどってくるって

俺の覚悟は、とうに決まっている
俺が、ヴォルフラムを連れ戻す
ふさげるな…
あんたなあ、ヴォルフラムは…ヴォルフラムはなあ、
最初から覚悟の上で…
あー、その、俺もさ。婚約者とかいうのはおいといて、
ヴォルフラムのことは友達というか、
その~、なんだ、家族みたいな感じっていうか…
とにかく、俺の魔王と高校生の二重生活は、
これからも続いていくんだ。
まだまだ大変なことあるだろうけど、
これが、俺の選んだ道だから…
Don't call me wimp~!
Ma, ma, ma, marriage, between two guys?!
And on top of that I proposed? When in the world...?
Wh, why?
Why is this guy in my bed?
Wha,wha,wha, what is the meaning of this?
Ahh~! I can't! Calm down~.
I, I know! A bath! I'll take a bath...
That's what happens when you come with us on a ship trip...

Why are you on my bed again? Wolfram!
It's fine! I can sleep on alone...
I'm telling you, you don't need to make it an every day occurrence!
I'm- te-lling- you, don't call me a wimp~!
Agh... as always you're acting like a selfish puu!
(Music changes)
Uhm.. Wolfram, even though I've heard a lot about love,
isn't it strange that people say that for the person you love, you'd be willing to kill?
When it comes to love, you try to be charming, gentle...
...how to say it, you try to bring out the best in your partner, don't you think?
That is why, when it comes to love,
it's not love if only one person is giving their love,
nor can you give your love equally to all things!
Love is not just to give, but also to give yourself, and so it will return!
Even humans if they are loved, will return for sure.
These guys too, I'm sure...
I told you already, the love that you give will return to you.
I decided a long time ago,
I will bring Wolfram back.
Stop it...
You, Wolfram.... Wolfram, you are....
from the beginning, I decided on...
Ahh, that is, uhm, I too, you know. Aside from the whole fiance thing
you're my friend, I mean,
uhm~, kinda, I mean.. you kinda feel like family.
Anyway,  I'm going to continue living
these two lives as a the demon king and a high school student.
And even though there may still be a lot of difficult things in store,
this is the path that I chose...
Ad blocker interference detected!
Wikia is a free-to-use site that makes money from advertising. We have a modified experience for viewers using ad blockers

Wikia is not accessible if you've made further modifications. Remove the custom ad blocker rule(s) and the page will load as expected.