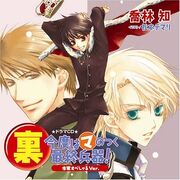 Original Title
Edit
 裏 今度はマのつく最終兵器!
Ura Kondo MA no tsuku Saishuu Heiki!
Release Date
Edit
Honke Special Version (MMCC - 4069) - June 24, 2005
Ganso Gorgeous Version (COO598) - June 30, 2005
No. of Discs
Edit
1 disc on each version. Honke special version contains an addional track.
Yuuri : Sakurai Takahiro
Conrad : Morikawa Toshiyuki
Wolfram : Saiga Mitsuki
Gwendal : Ootsuka Akio
Günter : Inoue Kazuhiko
Celi : Katsuki Masako
Anissina: Takayama Minami
Murata : Miyata Kouki
Shouri : Konishi Katsuyuki
Josak : Takeda Masanori
Description
Edit
Covers the second novel. Kondo wa MA no Tsuku Saishuu Heiki!
The Honke Special Version contains an additional track, the Ganso Gorgeous Version also includes a Shin Makoku newspaper, zipper pull, and a booklet with a short story by Takabayashi Tomo (彼がマ王に育つまで。)
本家すぺしゃる (Honke Special) Version
Edit
プロローグ (3:22)
豪華客船は危険がいっぱい (11:21)
さてその頃の眞魔国 (6:20)
一難去ってまた一難 (10:31)
魔剣モルギフ・ぶらり湯けむり秘湯の旅 (5:26)
それぞれの道 (6:42)
帰ってきたら帰ってきたで (5:44)
エピローグ (2:54)
グウェンダル閣下の受難 (8:13)
裏今度はマのつく最終兵器キャストコメント(本家すぺしゃるVer)(7:59)
元祖ごーじゃす (Ganso Gorgeous) Version

Edit
プロローグ (3:22)
豪華客船は危険がいっぱい (11:21)
さてその頃の眞魔国 (6:20)
一難去ってまた一難 (10:31)
魔剣モルギフ・ぶらり湯けむり秘湯の旅 (5:26)
それぞれの道 (6:42)
帰ってきたら帰ってきたで (5:44)
エピローグ (2:54)
裏今度はマのつく最終兵器キャストコメント(元祖ごーじゃすVer)(21:42)
Ad blocker interference detected!
Wikia is a free-to-use site that makes money from advertising. We have a modified experience for viewers using ad blockers

Wikia is not accessible if you've made further modifications. Remove the custom ad blocker rule(s) and the page will load as expected.