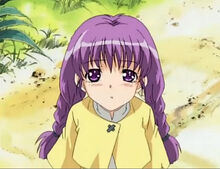 Ondine is the little girl who offers Yuuri water in Episode 1, making him form a pact with this element.
In Episode 46 it will be revealed that her name is Ondine, and that she was the maiden before Ulrike. In the anime her hair color changes from purple in Episode 1, to honey blonde in episode 46.
She lives in a forest and explains to everyone that the land was barren before a box fell from the sky and into the lake. The water became clear and plants began to sprout. Since then Ondine has been protecting the treasure in the lake.
Ad blocker interference detected!
Wikia is a free-to-use site that makes money from advertising. We have a modified experience for viewers using ad blockers

Wikia is not accessible if you've made further modifications. Remove the custom ad blocker rule(s) and the page will load as expected.