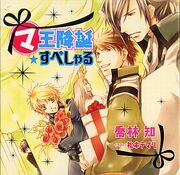 Original Title
Edit
マ王降誕☆すぺしゃる
MAou koutan ☆ supesharu
Release Date
Edit
June 8, 2007 as a supplement to The Beans, Vol. 9
No. of Discs
Edit
1
Yuuri : Sakurai Takahiro
Conrad : Morikawa Toshiyuki
Wolfram : Saiga Mitsuki
Gwendal : Ootsuka Akio
Günter : Inoue Kazuhiko
Murata : Miyata Kouki
Shouri : Konishi Katsuyuki
Description
Edit
It's Yuuri's 17th birthday and he's spending time at the pool with Murata and Shouri when he gets teleported to Shin Makoku. In Shin Makoku everyone is getting ready to celebrate his birthday.
プロローグ (7:36)
さてその頃の眞魔国 (2:49)
ぬけがけサプライズ (9:26)
オトナ組の密談 (8:49)
みんなのたんじょうび (11:05)
ハッピーバースデー (16:46)
エピローグ (8:27)
マ王降誕☆すぺしゃる キャストトーク (13:33)
Other Images
Edit
Ad blocker interference detected!
Wikia is a free-to-use site that makes money from advertising. We have a modified experience for viewers using ad blockers

Wikia is not accessible if you've made further modifications. Remove the custom ad blocker rule(s) and the page will load as expected.