Ernst(エルンスト), nicknamed El since the Er(エル) from Ernst is pronounced like "El" in English, is the son of Nicola and Gegenhuber. He is very sensitive in his ears and because he his half-human and half-Mazoku his can sense what the animals are doing and can make command them of himself.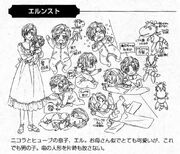 Ad blocker interference detected!
Wikia is a free-to-use site that makes money from advertising. We have a modified experience for viewers using ad blockers

Wikia is not accessible if you've made further modifications. Remove the custom ad blocker rule(s) and the page will load as expected.