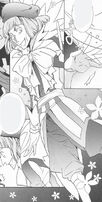 Belal the 4th
(or Berard the 4th) is king of Big Shimaron. He is the nephew of
Belal the 2nd
. He is around 40 years old but his voice like a heroine in a pretty girl anime.
In the anime he is only the king of Big Shimaron during the first two seasons and he makes an unfortunate attempt to interfere in the matter of the four boxes.
Ad blocker interference detected!
Wikia is a free-to-use site that makes money from advertising. We have a modified experience for viewers using ad blockers

Wikia is not accessible if you've made further modifications. Remove the custom ad blocker rule(s) and the page will load as expected.