Yuuri's horse. A black mare who is known to have a calm demeanor.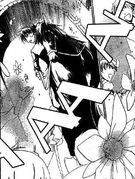 Just like other Mazoku horses, she has two hearts. It is said that they will carry their master's back home even if one of their hearts stop.
According to the Drama CDs, Yuuri can't ride any other horses.
Ad blocker interference detected!
Wikia is a free-to-use site that makes money from advertising. We have a modified experience for viewers using ad blockers

Wikia is not accessible if you've made further modifications. Remove the custom ad blocker rule(s) and the page will load as expected.